My Blog
Posts for tag: clear aligners
By Richard N. Benjamin, D.D.S., P.C.
February 08, 2019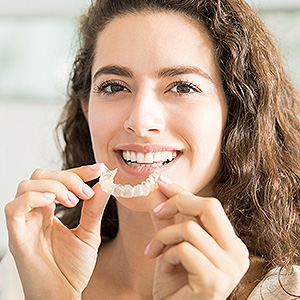 Wearing orthodontic braces brings challenges to daily life. During treatment a patient will need to avoid certain foods and habits, take more time to brush and floss properly, and may endure occasional discomfort. But the effect of metal braces on appearance can be especially difficult, especially for peer-conscious teens.
Clear aligners, though, offer an alternative to braces that could make some of these challenges easier, particularly with your appearance. Aligners are clear plastic trays that fit over the teeth to move them. They can be removed by the wearer for easier brushing and flossing or for special occasions. Best of all, they're much less noticeable than metal braces.
Clear aligners were developed thanks to advances in digital technology. An orthodontist uses a computer application incorporating the data from photographs, x-rays or CT scans of a patient's teeth and jaws to produce a series of clear plastic trays. The patient then wears each tray for about two weeks before changing to the next tray in the sequence.
The trays apply pressure much like metal braces to gradually move teeth to the desired position on the jaw. Each tray is slightly smaller in size than the previous tray in the sequence, so that the progression of tooth movement continues with each succeeding tray. The treatment time is about the same as with conventional braces.
This new orthodontic tool works well for many common bite problems, but until recently they've been limited in scope. But new designs in trays and attachments called buttons added to teeth to provide more leverage have greatly increased their use for more complex bite issues.
Clear aligners also have one other disadvantage, ironically due to one of their principal benefits, removability. Although they can be taken out, they must be worn consistently to achieve results. Some younger patients may not have the maturity level and discipline to responsibly wear their aligners as they should.
That's one issue you'll need to discuss with your orthodontist if you're considering clear aligners for your teen. But if they can maintain wearing consistency, and they have a bite problem that can be corrected with aligners, both you and your teen may find this choice more agreeable and attractive than braces.
If you would like more information on clear aligners, please contact us or schedule an appointment for a consultation. You can also learn more about this topic by reading the Dear Doctor magazine article "Clear Aligners for Teens."
By Richard N. Benjamin, D.D.S., P.C.
July 20, 2016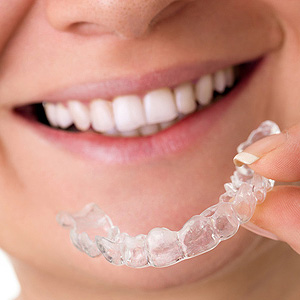 Wearing braces isn't just for teenagers — straightening teeth can be just as viable a need when you're an adult. For example, it may be necessary to first move teeth away from an empty tooth socket before you obtain a dental implant or other restoration.
But braces could have complications, especially if you have periodontal (gum) disease. These infections caused by plaque, a thin film of bacteria and food particles, inflame and weaken gum tissues and erode supporting bone. It can be treated and brought under control — but keeping it under control requires daily brushing and flossing, along with frequent office cleanings and checkups.
Braces can make this more difficult: it's harder to brush and floss effectively through the hardware of brackets and wires, which can give plaque a chance to build up. Patients susceptible to gum disease are more likely to have re-infections while wearing braces. The hardware can also cause enamel to come in prolonged contact with acid, which can dissolve its mineral content and open the door to tooth decay.
Clear aligners are an alternative to braces that can accomplish tooth movement while minimizing infection flare-ups for people with gum disease. Aligners are a series of customized clear plastic trays worn over the teeth, with each succeeding tray incrementally moving the teeth further than the preceding one. After wearing one tray for a specified time period, you then switch to the next tray. The teeth gradually move to the desired new position over the course of the aligner series.
This option is especially advantageous for gum disease patients because the trays can be removed temporarily for brushing and flossing. There are also other benefits: we can hide a missing tooth space with a temporary false tooth attached to the aligner; and, they're nearly invisible so it won't be obvious to others you're undergoing orthodontic treatment.
Not all orthodontic situations benefit from this alternative, while some cases may call for a combination approach between aligners and braces. But in the right setting, clear aligners are a good choice for not only obtaining better teeth position, but also helping you avoid a new encounter with dental disease.
If you would like more information on orthodontic treatments for adult teeth, please contact us or schedule an appointment for a consultation.